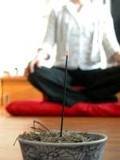 A Talk on Shambhala Meditation
with Shastri Tom Brothers
Tom Brothers will give a one-hour talk on Shambhala Meditation. This talk is open to anyone who has already had instruction and developed a connection to this practice.

The talk is free, but please register and indicate where you were taught the practice and by whom. Initial instruction will not be given at this talk.
If you have not yet learned the practice, the next opportunity will be in the course Basic Goodness 2, which begins on Tuesday Feb. 9.

If you have any questions, please contact Tom Brothers at [email protected].
You will receive the Zoom link when you register.