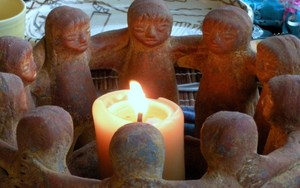 Cultivating Compassion, Insight, and Spaciousness
with Sasha Loring, Rhea Colmar, Tom Wroth
DEEPENING YOUR PRACTICE
A week retreat is a wonderful opportunity to fully focus on meditation in ways you can't do in daily life. A week of practice is both challenging and rewarding, and requires a full commitment of time and intention.
We will be studying the
relative and absolute bodhicitta slogans from the texts on Lojong, or mind training.
We will practice shamatha/vipassana meditation, have guided meditations and contemplations, and practice gentle yoga and chi gong.
The schedule is from 9:00 am to 5:00 pm each day. The center does not offer overnight accommodations.
There will be four days spent mostly in silence.
You may choose to attend either in person at the Durham Shambhala Center, or via Zoom only.
In-person attendance at the Shambhala Center will require full vaccination and wearing a mask.
Participants can register for either the first 4 days or for the full 7 days (encouraged).
Sasha Loring has been teaching meditation for over 40 years and has presented programs around the country. She has spent several years in retreat, and has created Mindfulness programs for Duke and UNC.
Rhea Colmar has been practicing meditation for over 20 years. With a background in Holistic Health, Nursing, and Massage/Bodywork, Rhea brings her love of healing to the path of meditation. She has studied with a variety of Tibetan Buddhist teachers and has taught meditation internationally.
Tom Wroth is a meditation teacher, a family physician, and CEO of a non-profit organization that serves North Carolina's vulnerable populations.
Cost: $175 ($200 sponsor) for the full week, or $100 for partial attendance the first four days of the retreat.