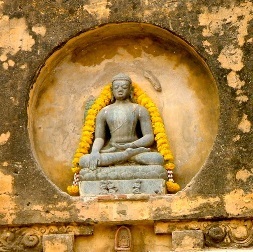 Profound Treasury: Open Practice and Study
In these classes, we will present and discuss a chapter of Volume I of The Profound Treasury of the Ocean of Dharma, from the teachings of Chogyam Trungpa Rinpoche.
The first volume, The Path of Individual Liberation, introduces core Buddhist teachings on mindfulness and awareness, cultivating virtue, and cutting grasping. Topics covered in detail include the four noble truths, karma, the four foundations of mindfulness, meditation practice, the refuge vows, the three jewels, the five skandhas, the five precepts, twofold egolessness, and more.
This is a great opportunity to build a strong foundation in the Hinayana teachings if you are new to meditation. It is also a great way to refresh your understanding if you have studied the Hinayana teachings before. All are welcome!
Each session will include meditation instruction, meditation practice, a presentation, and group discussion.
You do not have to have read the text, although it would be helpful. Drop in for any session, or attend the whole series. Registration is not required.
Saturdays, 10am - noon.
Online only. To join via Zoom, email [email protected]
Payment is dana, a donation in the amount that you choose.
You can order the book here: The Path of Individual Liberation